Residential Framing Contractor in Indianapolis IN: Book an Appointment!
Congrats to you because after working hard, it's now the time to build your dream house. We know that waking up early to pursue your goals is not easy. But still, you did it, and now, you're about to reach that home for which you've poured your soul in. We feel you and we give you our word to make worth every sacrifice by building the right home for you. Framing is a big part of that. Just like the fabulous home that we are about to create for you needs a solid foundation, your dream home also needs the right bones to lay the rest of the structure on. So, that's why you need to hire us as your residential framing contractor in Indianapolis IN.
From us, you can get durable, sturdy & custom house framing services.
Residential Framing Contractor in Indianapolis IN: We Build Custom Houses
Both foundations and framing are what holds everything together in your home. Foundations bear weight and give stability to your home. Foundations are like tree roots to a house. Framing is like the trunk and branches to a home. Framing is what keeps everything standing.
Framing is the central piece over which the other home features fit. Having the ideal home bones will make sure that the rest of the structure is laid on perfectly.
Once you have your home blueprint or once we together determine the size, shape, and features of your home, we'll build the stud framing structure to perfection.
So, you can have peace of mind that the frame will set the stage of your custom home.
Enrique Hernandez Construction LLC works hard every day to provide thorough new house framing services.
As the leading framing contractor in Indianapolis IN, we have the tools, skills, and finest materials to build to perfection the frames of your walls, the roof, the different rooms, the doorways, and the windows of your home.
Also, as the best local framing company, we take the extra mile by designing and building wood molds to pour concrete structures like kitchen countertops, bathroom sinks, among other specifications that the home of your dreams might have.
We'll Build Your House Based on Your Biological, Psychological & Social Needs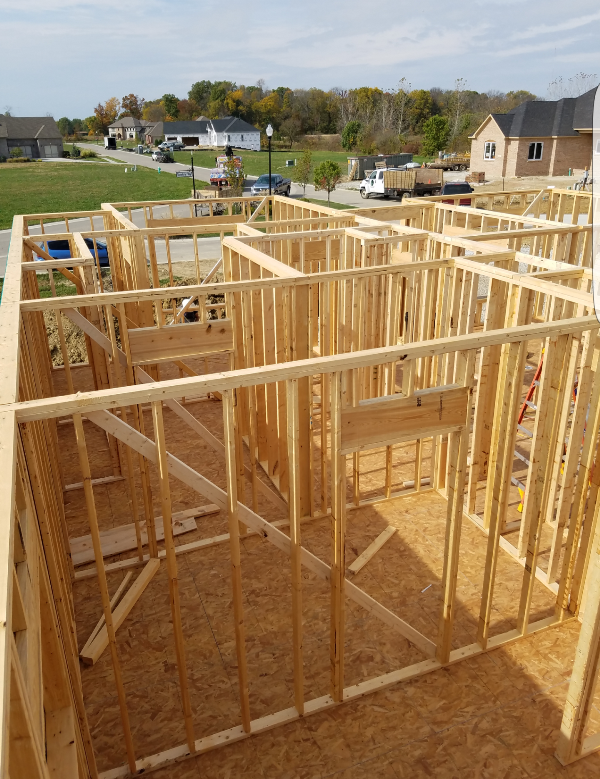 It's all about your personality. So, our best advice is to be bold. Tell the world who you are! 
Your home is the ultimate reflection of your personality. A custom home not only reflects who you are, but it also impacts how others see you.
As a leading home builder in Indianapolis IN, we know that your home should express your identity and taste. So, with our new home framing services, we set the stage so that you can deliberately express your feelings, thoughts, and lifestyle way before even we finish building your home.
The homes that we build are also the perfect instrument to express your social identity and belonging to a specific status or class.
The benefit of hiring us as your framing contractor in Indianapolis IN is that we love to tailor your new home based on your biological, psychological, social & cultural needs.
We'll make you feel proud since, with our help, you'll build the home you have always wanted. 
Residential Framing Contractor in Indianapolis IN: Call Us for a Quote
After all, we know better than anyone how hard you've worked to succeed in life. And for this commitment to better your lifestyle, we put the same commitment back to build a house frame that helps to create your home how you imagined and wanted it.
As a framing contractor in Indianapolis IN, we make sure to do our job with perfection.
Then, you can go ahead and add luxury and comfort for your convenience and home enjoyment. And this won't cost a leg.
We'll build a home that stays within your budget and above your dreams.