The deterioration of your home roof system can be due to age, poor maintenance, inadequate installation, low-quality materials, and of course, harsh weather conditions. Today, we're here to talk about the process that we follow to perform proper shingle roof replacement.
If your roof can't receive more repairs, here at Enrique Hernandez Construction LLC; we'll be more than glad to help you by installing a new one.
Steps to a Proper Shingle Roof Replacement Process
1. We Inspect Your Old Roof
First of all, our roofing experts will perform a thorough examination of the state of your roofing system. We do this evaluation because it is a preventive measure to know what we are dealing with.
After the inspection, we'll provide you with this info. This will let you know the state of your roof.
2. We'll Make a List of the Materials
That's right. We'll prepare a report telling you about which materials we'll need. Of course, this is part of the budgeting process. We make sure to use the best since this will also guarantee the quality and durability of our roofing solutions.
Of course, we'll choose the best materials while always staying within the budget.
3. We Protect Your Property
Doing a proper shingle roof replacement is a risky project for the average homeowner.
And as a professional roof, we take all possible precautions to keep your property and family safe.
We protect your siding, walls, plants, bushes, etc. during the roofing replacement project. For this, we use tarps and plywood to protect your property.
4. We Remove the Old Roof Materials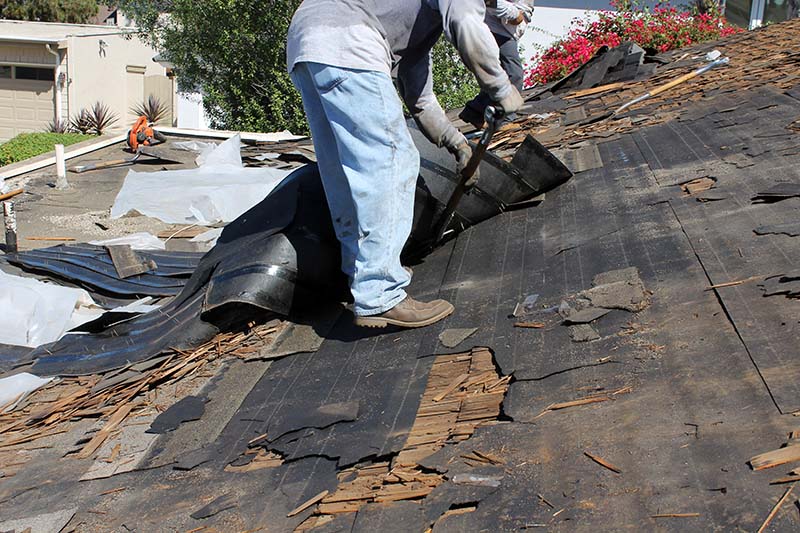 Every step must be done with extreme care. In this way, we make sure of a proper shingle roof replacement.
So, it is time to remove all shingles. We detach them one by one, without getting into accidents or ruining your roof.
5. Wood Decking Inspection
As you know, the wood deck is the base for the new shingle roof.
Our team will see if there is any soft, wet, or rotted wood. Depending on the state of your wood decking and your budget, we'll repair it or replace it.
In the end, we promise you'll have a solid base for your roofing structure because this will guarantee much of the project success.
6.     Preparing the Roof Surface for Shingles
This is one of the most vital steps. For instance, during this step, we proceed to install the "ice and water shield." We stick this to the wood decking, and this shield will prevent the infiltration of water to your property. Then, we install the roofing felt. The roofing felt adds extra protection, and it also prevents the shingles from sticking to the wood decking.
7.     We Install the New Shingles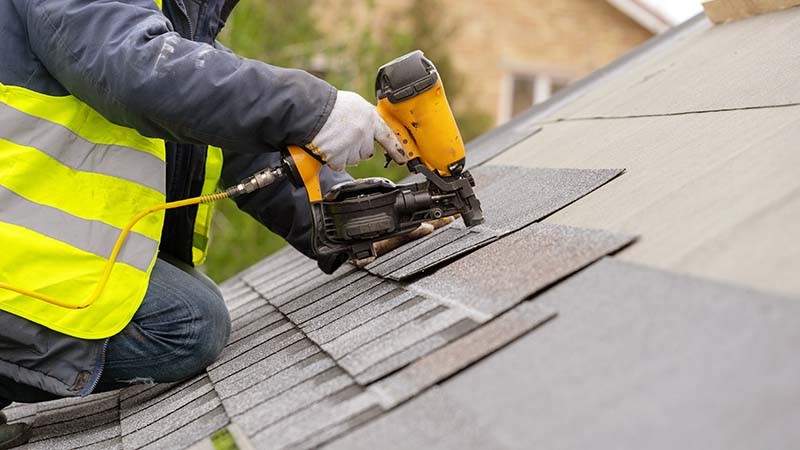 After the roof surface was prepared, we proceed to lay out the new roofing material. Without doubts, our team will do such an exceptional job installing the new shingles.
We promise you to do a proper shingle roof replacement; one that will protect you and your loved ones for decades to come.
8.     Clean Up and Final Inspection
Of course, we clean the job site after every day of work. At the end of the project, we perform a thorough cleaning process. Before leaving, we'll do a scrutinizing inspection. All that we want is to make sure your roof replacement project was a complete success.
There won't be a single mistake in your new shingle roof since all that we want is your well-being and your satisfaction.
Count on Enrique Hernandez Construction LLC for Your Roof Replacement
We know you are looking for a trusted contractor to take care of your home projects, especially your roof replacement.
Lucky you because Enrique Hernandez Construction LLC is here to help you. We will love to assist you with high-quality roofing results to protect your beautiful home.
Call us today, and we'll add value to your life with every completed project.